The Spirit of Tenterden Festival
Tenterden Recreation Ground, 5-7 July 2024
---
NEWS
Spirit of Tenterden
FOOD, DRINK & MUSIC FESTIVAL
5-7 jULY 2024
Friday, 3pm-10pm
Saturday, 10am-10pm
Sunday, 11am-5pm

The Spirit of Tenterden Festival is a not for profit community group (community interest company), run by the community for the community

---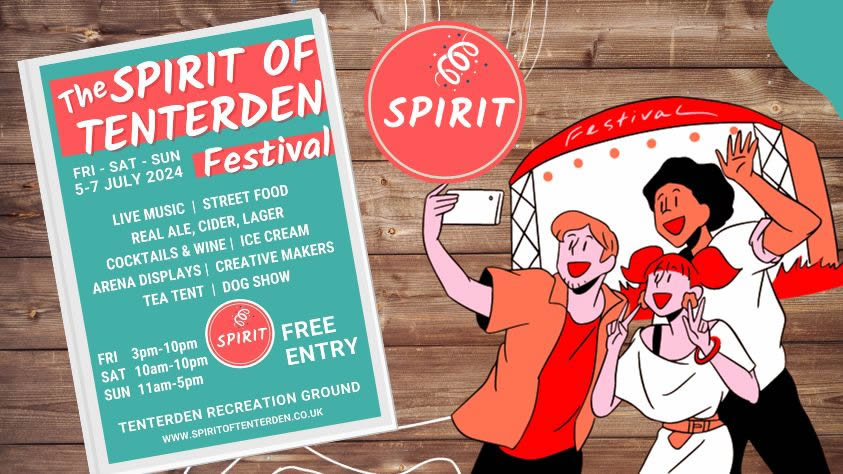 NEXT YEAR!!!
Spirit of Tenterden Festival 5-7 July 2024
2024 - stallholders please apply >>> here
Priority will be given to previous stallholders
2023 ONLINE PROGRAMME
Spirit of Tenterden Festival
Click on the image to view the online programme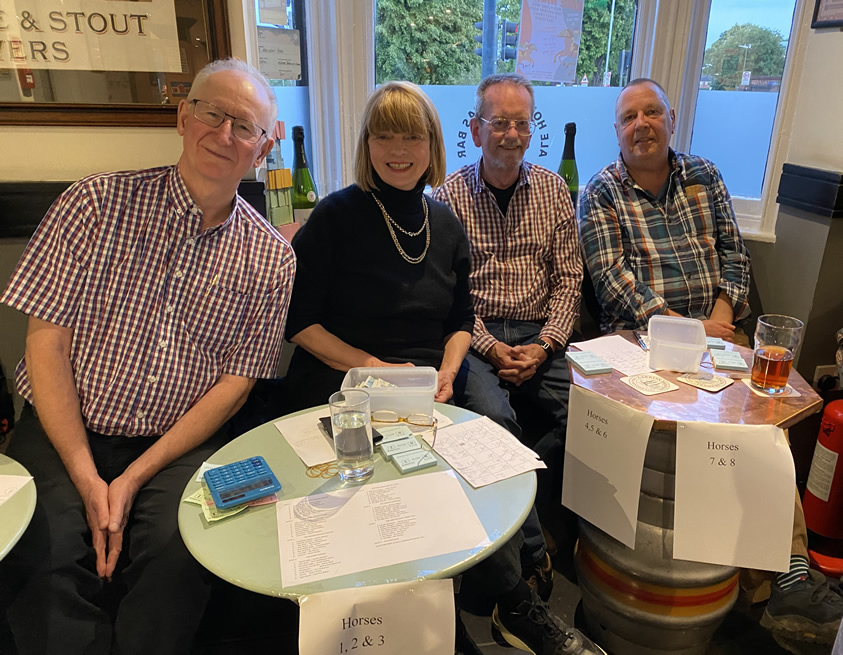 FINAL FUNDRAISING EVENT BEFORE THE 2023 FESTIVAL
Wednesday 7 June 2023
Our last Spirit of Tenterden fundraising event before the festival was an absolute success! Huge thanks to Sarah at This Ancient Boro for hosting a Racenight on Wednesday. Together, we managed to raise an incredible £761.75! Thanks to Bill, Sue, Justin, and Verne for their race admin skills - selling race tickets and paying out the winning races. Thanks to Jez for being such a great compere, and thanks to everyone for coming along. We are really grateful for the generosity that continues to make the Spirit of Tenterden festival possible. This year's festival will be the best one yet! Spirit of Tenterden Festival 30 June - 2 July 2023 - Tenterden Recreation Ground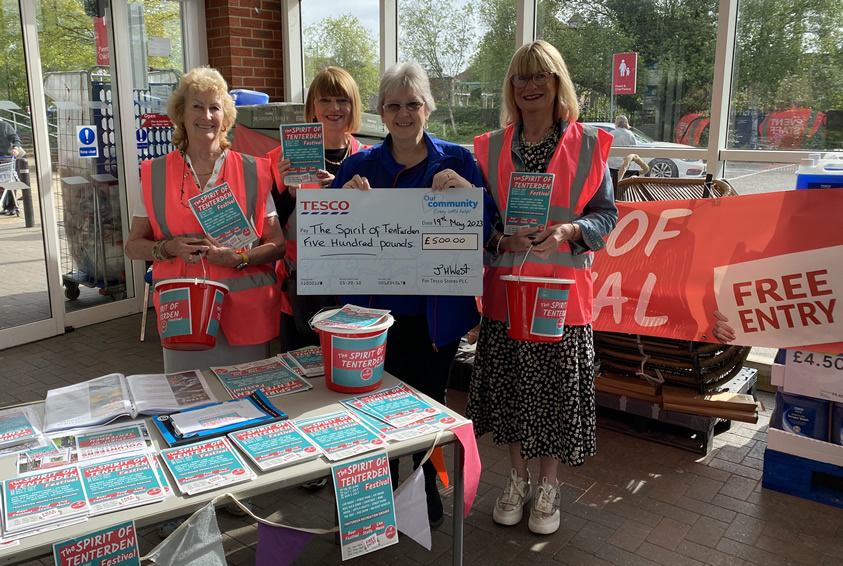 THANK YOU TESCO TENTERDEN
Friday 19 May 2023
We would like to say thank you to Tesco Tenterden for their support and generosity towards the Spirit of Tenterden Festival. On Friday, May 19, we stationed ourselves outside the store, distributing countless festival fliers and proudly displaying our collection buckets as well. Tesco Tenterden also made an exceptionally generous donation of £500 towards the festival. This incredible contribution came from the proceeds of Tesco Community Champion Jan West's book stall. A big thank you goes out to Jan for her support! And a big thank you to everyone who helped at the collection, and thanks to Tara for organising the day.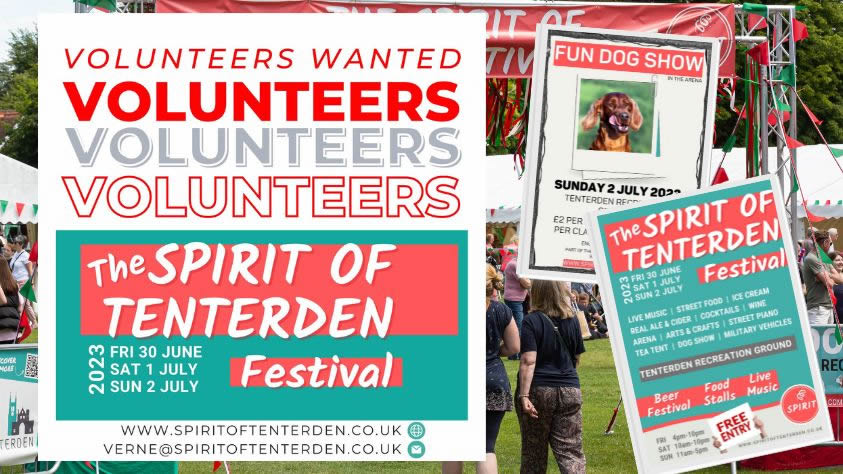 VOLUNTEERS WANTED FOR THE SPIRIT OF TENTERDEN FESTIVAL

We want you!!! Volunteers - Helpers - Stewards - wanted to help before, during and after the festival. All kinds of jobs - do what you want/like to do for the days/hours you want! Help needed for set up before the festival too on Wed 28 June (marking out pitches) and Thurs 29 June (artistic displays/bunting/entrance truss/stage displays). Some people will be happy carrying things around, others will be happier with a clip board marking off jobs, others will love to get involved with the artistic displays. If you can help please contact verne@spiritoftenterden.co.uk to join our friendly group of helpers or fill in our online form >>> here !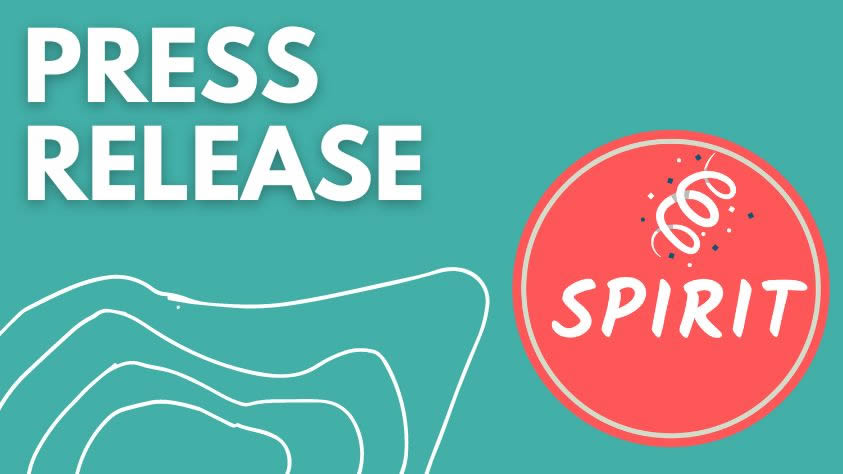 PREVIEW - FOOD, FUN, MUSIC AND SPECTACLE AT 'SPIRIT' TENTERDEN'S VERY OWN FAMILY FESTIVAL

'Spirit of Tenterden', the Wealden town's very own family festival, will be staged on the Recreation Ground from Friday, 30 June to Sunday, 2 July 2023 – and promises to be bigger and better than ever. Weeks before the free-to-enter event, which is run entirely by local people and attracted more than 5,000 visitors last year, more than 50 stallholders and exhibitors are already queuing up to take part, offering a wide variety of treats for all the family. Read more >>> HERE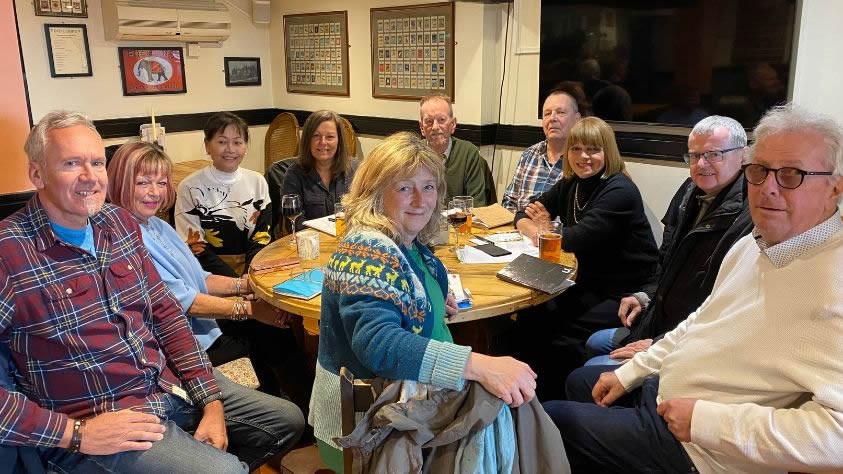 SPIRIT OF TENTERDEN FESTIVAL TEAM

The Spirit of Tenterden Festival team: left to right around the table. Pat Sweeney (music/stage), Sarah Cleaton (bar/dog show), Bena Johnston, Mary Brasington (fundraising/sponsorship), Justin Nelson (admin/grants/finance), Verne Sanderson (logistics/volunteers), Sue Ferguson (website/social media/stalls) , Barry Mell, Richard Harvey (press/PR), and Liza Townsend (creative displays on site). Not in the photo Tara Willington-Mace (local business co-ordinator) and Lindsay Hammond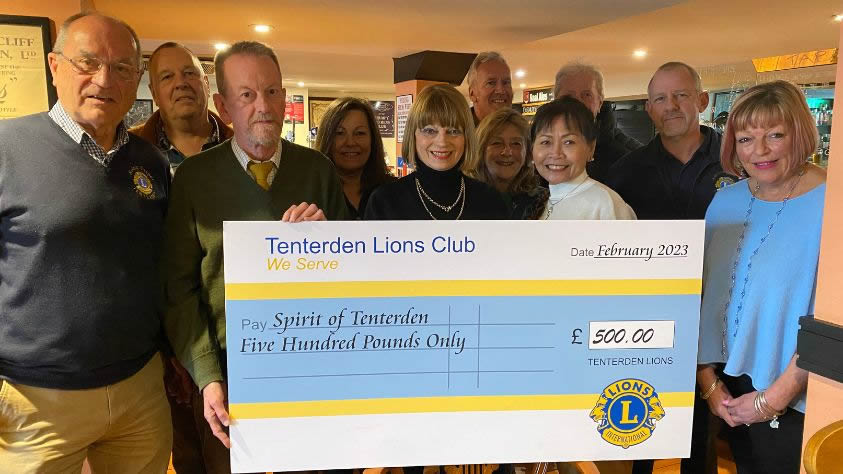 THANK YOU TENTERDEN LIONS CLUB

Tenterden Lions Club presented a cheque for £500 in support of Spirit of Tenterden 2023. The picture shows Spirit's organising committee, with (second right) Lions chairman Anthony Groves and (left) Lions committee member Robin Draper.

Spirit of Tenterden Festival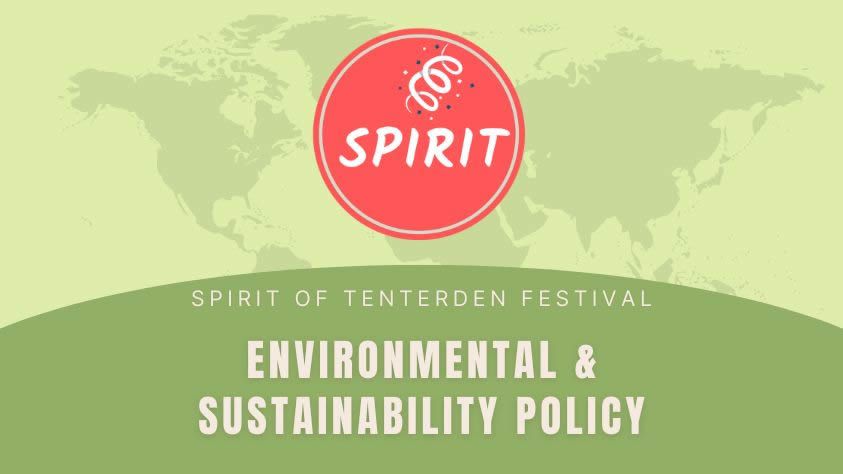 ENVIRONMENTAL & SUSTAINABILITY POLICY

Read our Environmental and Sustainability policy >>> here
- Aims and Intentions
- Waste
- Energy
- Short term single use items (generally plastic based)
- Other Areas of operations and activity - Drinking water availability; Catering seasonally, sustainably and local; Event infra-structure
Spirit of Tenterden Festival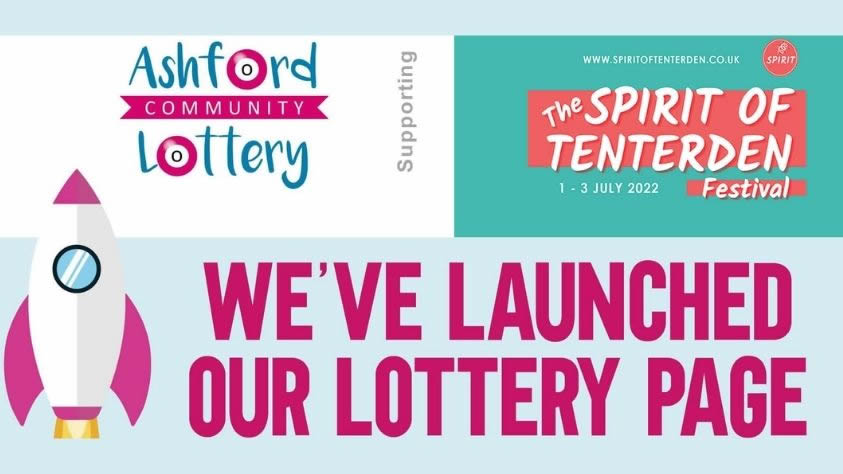 ASHFORD COMMUNITY LOTTERY - FUNDRAISING FOR SPIRIT
Support the Spirit of Tenterden Festival when you play the Ashford Community Lottery ... help the Spirit team raise funds to put on the community music, food, drink festival in Tenterden on 1-3 July 2022 . If you buy a lottery ticket direct from the Spirit of Tenterden lottery webpage you will be supporting us. 50% of all tickets sold from our page go to us! Tickets only cost £1/week. Prizes up to £25,000. First draw Saturday 19 March 2022 and weekly after that. Supporters must be 16 years of age or older. An Ashford Borough Council initiative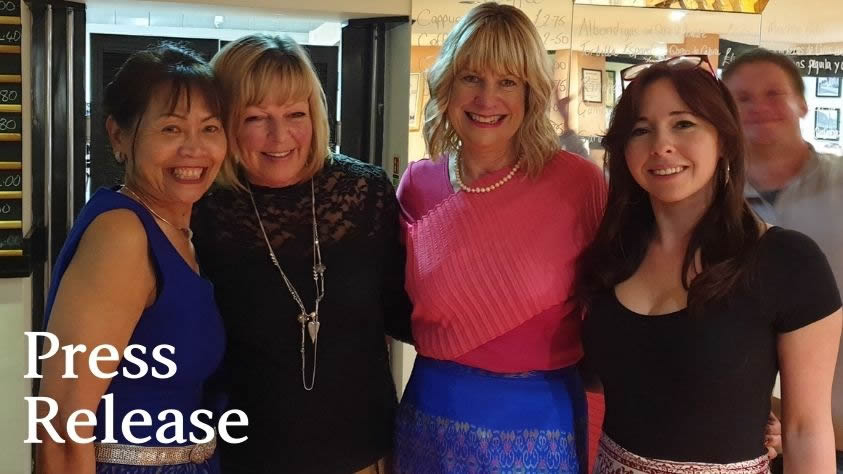 A FUNDRAISING EVENT November 2021
TASTY! THAI DINNER RAISES £1,500 FOR 'SPIRIT REVIVAL' Supporters of 'Spirit Revival', Tenterden's family, music, food and drinks festival scheduled for Friday-to-Sunday, 1-3 July, 2022, raised almost £1,500 at a Thai food evening, held at This Ancient Boro on Wednesday (3 November). The event was so popular that the meal was served in two separate sittings, which attracted more than 70 diners. Spirit Revival organising committee chairman Justin Nelson said it was "a fabulously successful evening" and particularly praised Bena Johnston and her team, who prepared and served the dinner, and Ancient Boro licensees Ray Pratt and Sarah Cleaton for hosting the evening.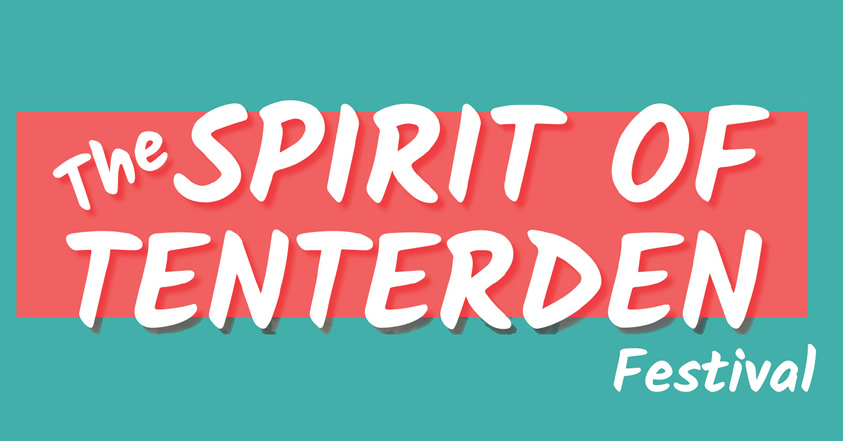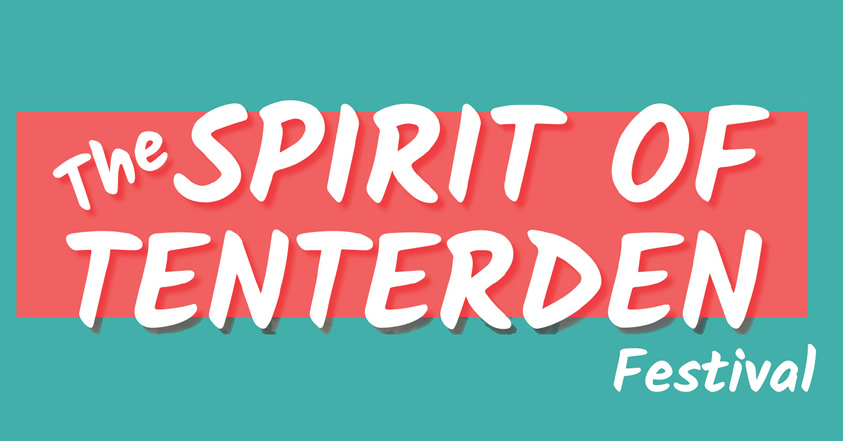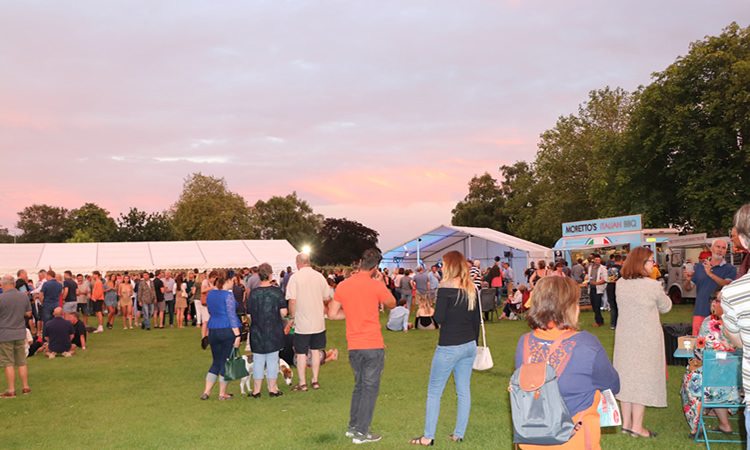 spirit of tenterden
2019 FESTIVAL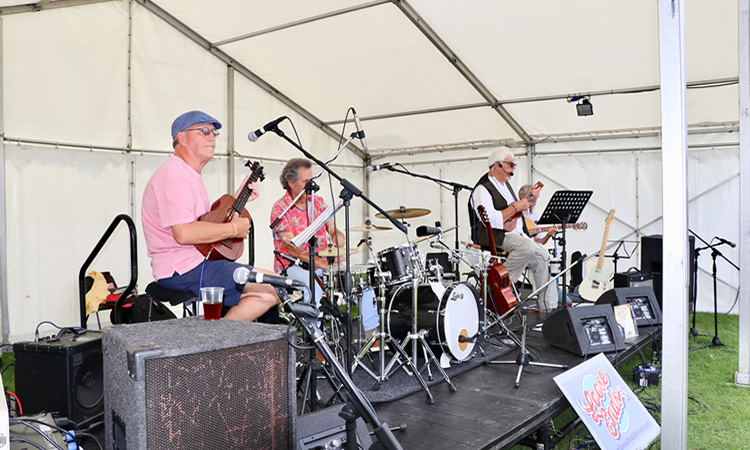 spirit of tenterden
music stage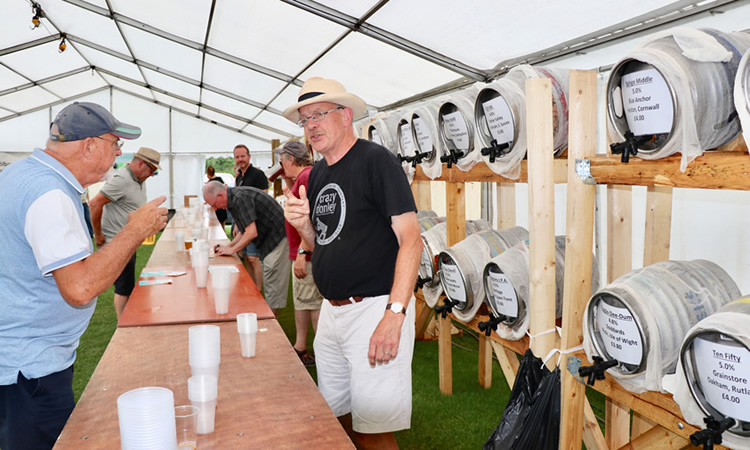 spirit of tenterden
festival beer tent